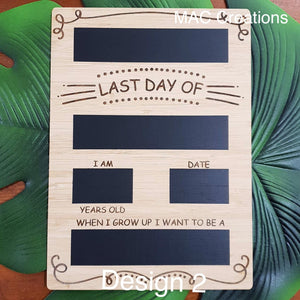 Our last day of school boards are a great way to record your child's school life.
 
 
Laser engraved on 2.5mm bamboo, with chalkboard sections for you to write on.
 
 
Design 2 measures 21 cm wide x 29 cm high
 
 
If you would like these in a double sided version (with first day) please see our other listings.
 
 
We recommend that you use regular chalk on these (not included).
 
 
Clean with a duster/dry cloth, or gently wipe with a damp cloth. Allow to dry fully before storing.  Please note that many of the chalkboard pens on the market, (such as Uni, Uniball, Texta, Kmart etc) are permanent when used on a chalkboard surface, and are therefore not suitable to be used with our board if you plan to reuse the board in future. Please be sure to read the label on any pen that you purchase.