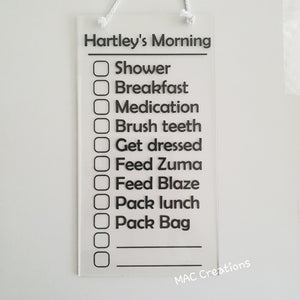 Does your little one (or you!) need/thrive on routine?
Our fully customized and personalised routine charts are laser cut and engraved on 3mm clear acrylic.

Charts are engraved on the back side. Text is white.

This chart can be made with any text/wording. The tick boxes allow your little one to tick each item off as they go. Please note that the more tasks included, the smaller the text size will be to ensure they all fit. 

This can also be made into a Chore Chart! 

Personalisation: Please enter all details/text in the text personalization box above. A design proof will be sent prior to cutting, so please keep an eye out for an email from us after your purchase.

Size - Max size of 29cm high x 15 cm wide
Please note that if the list of tasks is short, the size of the chart will be adjusted to remove excess blank space. 

Hanging options include rope as standard (pictured), or magnets (which will be visible from the front). Please note that if you select magnets, the chart should be handled with extra care when removing from any magnetic surface. Care should be taken to minimize unnecessary pressure on the magnets, and scratching of the magnetic surface.

These charts work perfectly with white board markers or chalk board pens (not included).

Care instructions - wipe clean with a damp cloth or baby wipe.
DO NOT use a scourer or other abrasive cleaning product as this may scratch the acrylic.

We also offer these blank in 'My Morning,' as well as 'My Afternoon.' Please see our other products.