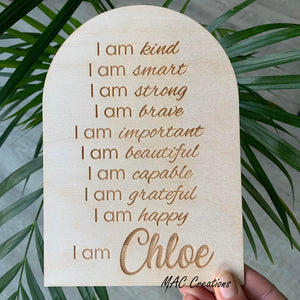 Teaching children to love who they are and to be comfortable in their own skin is vital to setting them up as confident, happy humans.
Our positive affirmations plaques can be fully customised with whatever affirmations you deem important/relevant for your little human.
Pop them by the bed to read together at night, or by the mirror to read when they are doing their hair.

Our affirmation plaques are individually designed, and laser engraved onto beautiful birch wood. They are approx A5 in size.

They are available with or without little feet stands.

Personalisation - please add the name in the personalisation box, as well as any changes to the listed affirmations.

Thanks for supporting our little family biz.